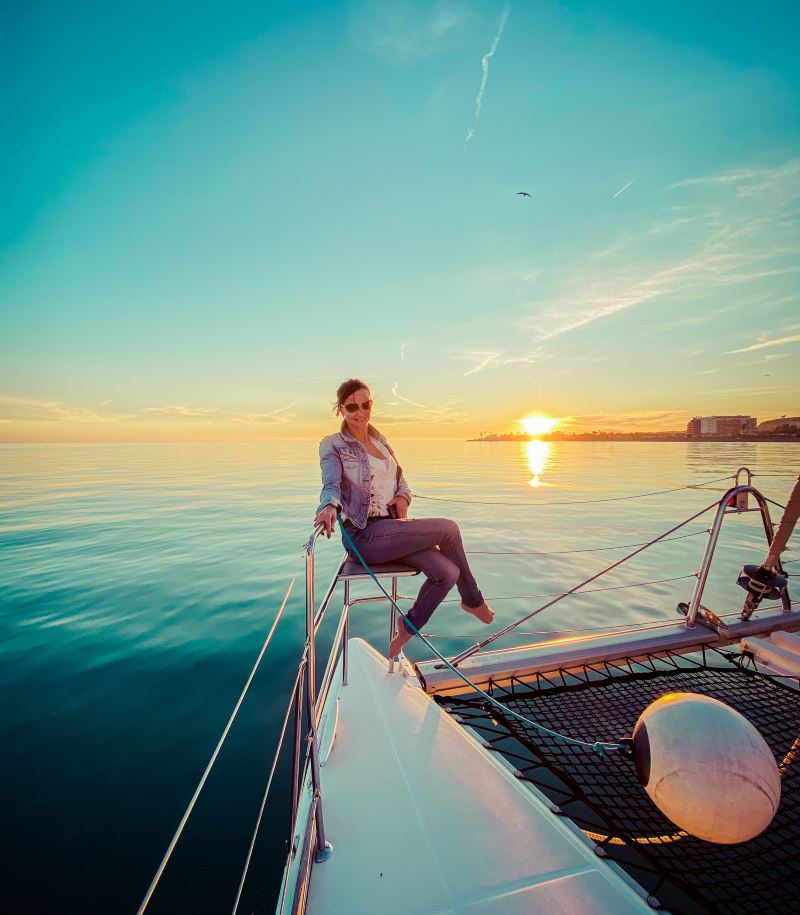 You can rent our catamaran Lagoon 440 with a maximum capacity of 27 passengers

A three-hour boat ride is the most chosen by our customers. With departures from the Port of El Candado, it borders the beaches of the promenade and you will be able to see the Port of Málaga with the large cruises moored in the port and you will enjoy the Alcazaba of Málaga or the Castle of Gibralfaro.
Before returning we will go into the sea to see if there is any luck with the dolphin sighting and you will be able to swim in the high sea.
We have on board several leisure areas in the sun and shade where we offer the possibility to enjoy a refreshment and a wide range of bar products.
The six-hour tour is ideal for those who want to enjoy more hours of sea and navigation, being able to choose the time of departure and return to port.
A large catamaran is the best option for hen parties, birthdays, private parties, company events, etc.
The advantages of a Catamaran are countless compared to a monohull sailboat:
Comfort: The list in a catamaran is practically null, so the navigation is much more comfortable in almost all the crossings.
Dizziness: The incidence of seasickness on a catamaran is far less than on a sailboat. The catamaran moves less, this movement is pitching and not rolling, which is the movement that often makes the crew seasick.
Speed: The speed of a cruising catamaran is higher than that of a monohull sailboat, which means less time for the planned destination, a longer boat trip than planned or a boat trip where we can visit or see more of the coast in the same amount of time.
Habitability: We all know that a boat is a small space to spend many hours or days, with a catamaran the surface in square meters of habitability practically doubles, is better ventilated, is more luminous and its vision 360 is unbeatable.
Comfort: Advantages and more advantages, it is time to anchor for bathing or rest, thanks to its low draught, we can get closer to the coast or go through places where a sailboat would be impossible.
Independence: But everything does not end there, having two hulls joined by the lounge, we get an independence on board that already would like a mono-hull sailboat, two cabins and a bathroom for each one allows two families to live together independently or, starboard for the parents and port for the children.
Catamaran for excursions in family groups, friends or companies along the coast of Malaga and Marbella and Boat trips by the hour with departures from El Candado Marina in Malaga City.

Our Catamaran for rent is available throughout the Costa del Solin the ports of Málaga, Benalmádena, Fuengirola, Marbella, Banús, Estepona...
Rental service throughout the year, being able to leave at the time you decide and return at the agreed time
We have a magnificent bar service on board where you can choose what drink to have during the excursion
You can hire our great catering service with over 20 years of experience in organizing events and boat parties